10 reasons why Patients from different parts of the world have chosen our Institute, based on the actual feedback
Reason 1: World Class Surgeon: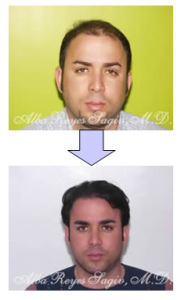 Dr Reyes is a highly-qualified and American Board certified surgeon for hair transplant surgery. She won her International reputation for achieving excellent results for her patients, which include celebrities, politicians and business men and women. She is one of the very few surgeons worldwide to guarantee the results of the transplant for each patient. Dr Reyes and her team can transplant over 5000 grafts (1, 2 and 3 hairs per graft) in one procedure (while her team can do much more, there is always a constraint in the donating zone).
"Today I always advise people not to let location determine which surgeon one decides on. Its better to choose a top quality surgeon like Dr Reyes even if it means some travel. The results will be worth it."
– A Satisfied Patient
Reason 2: Personalized Treatment:
Our experience has shown that each patient has his or her unique needs. So we take a personalized approach for each patient (not an industrial approach as most of the USA's clinics). From the beginning of the procedure to the end Dr. Reyes is the only surgeon that will do the surgery procedure (helped by her assistants) – unlike many others clinics that operate under the name of a well-known surgeon but the actual procedure is done by someone else in part or full. In fact, our patients have selected us because they got the confidence that they will be treated only by Dr. Reyes.
"I am very satisfied with my results. The surgery has made a dramatic improvement in my appearance. My wife is also very happy with the results. All the surgeons here I have spoken to are impressed with my results. This includes plastic surgeons who mainly just do hair transplantation."
– A Satisfied Patient
Reason 3: Very affordable Fee:
Because we are based in an offshore location (Dominican Republic) with a lower cost of living, we are able to offer top-quality hair transplants at a fraction of the full hair restoration price in the USA (when comparing the same size of procedure done by a top American Board Certified Surgeon). Our affordable fee will suit any person who is serious about removing their baldness and is looking for a top surgeon to do this delicate and artistic work. Our fee is for full Hair Restoration treatment (sometime there is a need to have more then one treatment) and not pay per graft, which ensure that you have full visibility and transparency on fee right from the start.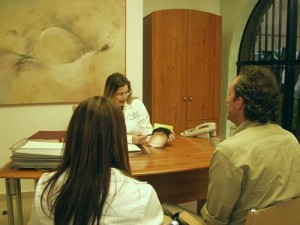 Reason 4: Reliable Treatment:
We have served thousands of patients in our clinic that have resulted in very high level of patient's satisfaction. Like in any surgical procedure, there might be a very rare case where the healing may not go as per plan, and even in such cases, we are always there to guide and help. Our treatment is painless, ambulatory and reliable. Patient will need only one visit to the doctor for the procedure – which justifies overseas traveling for a stay of 3 nights or more (if convenient).
Reason 5: Rapid Access from USA, Canada, Europe and South America:
We are just 1.5 hours flight from Florida, 3.5 hours from New York, and 8 hours from Spain. Most major airlines have frequent flights to the Dominican Republic. To get a list of airlines that you can use for your visit, please contact us.
Reason 6: Pain Free Procedure Guaranteed:
Dr. Reyes guarantees a pain free procedure. Our in site anesthesiologist will assist (at no extra charge) those patients that prefer to sleep (under local anesthesia) during the procedure. Many patients also choose listen to music as surgery continues.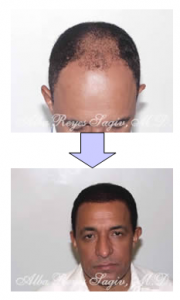 Reason 7: Recovery in 1 Day:
Our service is a one (1) day visit only and the patient can leave back to his/her country within 2 days; that make such service the most ambulatory and safe in its kind.
Reason 8: Experience with all Hair Types:
All type of grafts (white as well as dark hair, curly hair as well as straight hair) with preparation done exclusively by using high-end German made Stereoscopic microscopes and by well trained and experienced technicians who have been working with us for many years.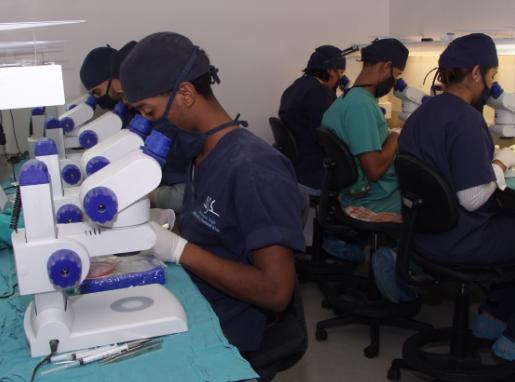 Reason 9: Bilingual stuff and All-inclusive packages:
to ensure that any foreign patient is relaxed and well communicated about all his/her needs from the time of arrival at the international airport of Santo Domingo till the time of departure. So there is no need to understand Spanish to visit Dominican Republic and to be treated by Dr. Reyes. You will be picked up by our chauffeur immediately on your exit from the airport terminal, and from there we will take care of all your needs and we will ensure that you and your family enjoy VIP service. Read the Testimonials of other Patients.
Reason 10: Treatment plus Vacation at the same time:
Our Medical Vacation packages are very affordable. We want to ensure that when you travel to the Dominican Republic, you also enjoy the beauty of the place and have at least 3 days vacation. It's a great way to combine a vacation in a beautiful island with a hair transplant procedure by highly recommended surgeon that guarantees results.
"You are probably the only clinic in the world to offer advanced hair restoration services with guaranteed results! And the location at Dominican Republic is easy for travel – just 1.5 hours flight from Florida. With your great quality of treatment and lowfee – it's a great choice!"

– A Satisfied Patient
———————–
For more examples/demonstration of successful results, we invite you to read Patient Testimonials. Check out the Frequently Asked Questions to learn more about Hair Transplant Surgery. To ask your specific questions, you can Contact Us or request a Free Consultation on your case.