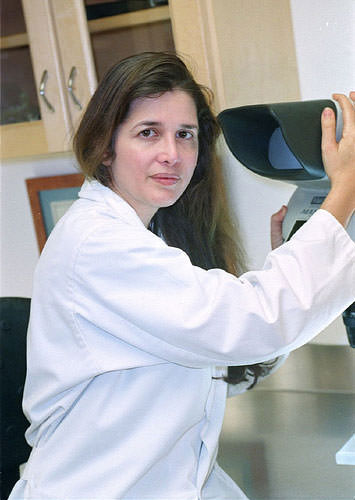 In The News
Treatment Philosophy
Alba Reyes Sagiv, M.D. is an Award Winning surgeon who is famous for doing the most comprehensive hair transplant procedure for natural re-growth of hair. The procedure is available for both men and women and is carried out by a meticulous specialist who has dedicated her career to perfecting this advanced method, now used in many countries throughout the world.
Alba Reyes Sagiv, M.D. is the first physician in Latin America to be admitted to the American Board of Hair Restoration Surgery.
Alba Reyes, M.D. is the expert pioneer of Micro Follicular Unit Transplant (FUT) and Follicular Unit Extraction (FUE) in Dominican Republic. Her expertise has helped thousands of patients to replace baldness with natural hair and obtaining a more youthful look.
ABHRS/IBHRS STATEMENT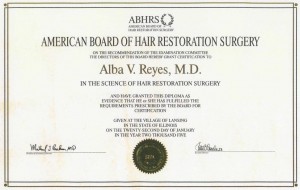 The American Board of Hair Restoration Surgery/International Board of Hair Restoration Surgery (ABHRS/IBHRS) is the largest worldwide entity to have established standards for certification for education, training and experience in Hair Restoration Surgery.  Physicians who are eligible to apply for ABHRS/IBHRS certification have demonstrated the accumulation of significant experience in the field of Hair Restoration Surgery and have all shown a commitment to high standards of training and education.  Those who have achieved certification have demonstrated advanced knowledge in the art and science of hair restoration through peer-reviewed examination.  While there is currently no ABMS certification specific to hair restoration, the ABHRS/IBHRS is the only certification recognized by the International Society of Hair Restoration Surgery, the largest hair restoration educational organization in the world.
World Class Hair Surgery Experience:
Dr. Alba Reyes' reputation as a world-class surgeon comes from her satisfied patients. She has consulted and helped thousands of patients who sought her help and recommendations in the area of hair loss and hair transplant surgery. The areas in which she has earned international reputation are:
Diagnosis and Treatment of Scalp Disorders and
Surgical and Medical treatment for Hair Restoration.
Dr Alba Reyes Sagiv is a pioneer of mega-sessions and super mega-sessions in Dominican Republic, in which thousands of hair follicles are implanted in just one surgical session.
Dr. Alba Reyes is a "Magna Cum Laude" medical doctor, carried out her dermatological studies at the "Instituto Dermatológico y Cirugía de la Piel" (Surgical and Dermatological Skin Institute), in Santo Domingo, the Dominican Republic. While she studied, Dr Reyes was head of residents, and for her academic achievements she was awarded the "Premio Augusto Stiefel".
Thanks to Dr. Alba Reyes academics achievements, the "International Society for Dermatologic Surgery" (ISDD), granted her with the "Perry Robins Scholarship Award" in 1998, and was recognized as a scholarship-holder of excellence.
During the visits of Dr. Reyes to Israel, she has studied the entire range of technologies and techniques that apply to hair surgery — Laser technology and pulsating lights for skin rejuvenation, definitive photo depilation, Mohs micrographic surgery, photo dynamic therapy for the treatment of cutaneous cancers — and she specialized in the field of hair loss and hair restoration.
Dr Reyes has received specialized training from some of the greatest experts in the world. She has received the introduction and the first experience to the art of hair transplants surgeries by Dr. Finke and Dr. Alex Ginzburg (Israel), then traveled each year to visit a well known expert in different countries; Dr. Marcelo Gandelman (Brazil), Prof. Walter Unger (Canada) who is editor of one of the most-read documents on hair transplants, Dr. William R. Rassman (who invented the FUE technique) and Mark Avram (USA) and Dr. Jerry Wong (Canada). Dr. Reyes travels each year to attend the scientific meeting of the "International Society of Hair Restoration Surgery" (ISHRS).
Alba Reyes Sagiv, M.D. is featured at International Society of Hair Restoration Surgery.
As a member of the ISHRS (International Society of Hair Restoration Surgery), Dr. Reyes regularly visits different reputed centers in Brazil, USA, and Canada.
_______________
For more examples/demonstration of successful results, we invite you to read Patient Testimonials. Check out the Frequently Asked Questions to learn more about Hair Transplant Surgery. To ask your specific questions, you can Contact Us or request a Free Consultation on your case.